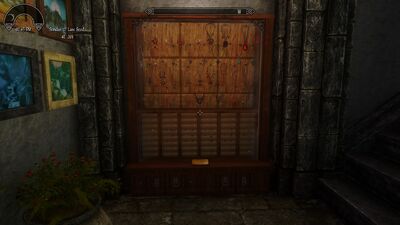 The jewelry display is located on the first floor of the Library . It's at the bottom of the stairs that lead to The Armory and The Safehouse secret passage. It is home to a big quantity of rings and amulets and has 6 spots for paintings.
If you have the mod More Interesting Loot and the Legacy patch for it installed, displays for the amulets and rings from the mod will be activated in the cabinet.
If you have the mod Amulets of Skyrim and the Legacy patch for it installed, another jewelry cabinet will be activated to the left of the main jewelry case, replacing the 6 painting spots on the wall. See Amulets of Skyrim Display for more info.
The glass covered top part of the cabinet holds amulets, while the lower part, with the round rolls, holds the rings. You only need to place the jewelry you want to display in the cupboard at the bottom of the cabinet and wait for the display process to finish (takes 5–15 seconds usually), and your jewelry will be displayed.
The jewelry pieces are listed below in their order from left to right, top to bottom.
Jewelry Cabinet
Amulets
Rings
SPOILER list - How to get all items