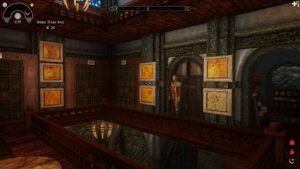 The 2nd floor of the Library is mainly dedicated to displaying Treasure Maps and books that do not have a display of their own. There are several bookcases you can fill as you see fit and several displays for treasure maps.
The second floor of the library is connected to the 1st floor of the Library and the 3rd floor of the Library through a stairway.
Below is a list of all that is to be found on this floor of the library, starting from the left of the door.
Left of door

Book returns case.

Door to the Dragonborn Hall.

Card Catalogs.

Skill Books.

Spell Tomes.
Across from door
Numerical Titles.

Bookcase A-G.
Right of door
Bookcase H-L.

Bookcase M-R.

Bookcase S-Z.
SPOILER list - How to get all items
Ad blocker interference detected!
Wikia is a free-to-use site that makes money from advertising. We have a modified experience for viewers using ad blockers

Wikia is not accessible if you've made further modifications. Remove the custom ad blocker rule(s) and the page will load as expected.