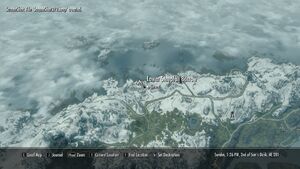 Within the Penitus Oculatus outpost in Dragon Bridge is a note pinned to the fireplace. Read the writ of execution to start the quest.
Walkthrough
Find Steepfall Burrow on the northern coast of Skyrim.
A map marker for Lower Steepfall Burrow will be added if you didn't find the location already.
Locate Praefect Torbal and search for the stolen Artifact.
Once you enter Lower Steepfall Burrow, the quest will update. Search Torbal's corpse for a bloody note.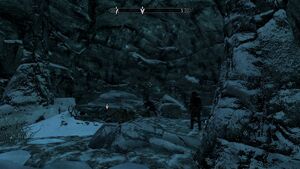 Read the Bloody note.
Find the Lord's Mail.
Leave Lower Steepfall Burrow and go to the Steepfall Burrow slightly to the south a bit higher up the hill.
Cross the ledge behind the trolls is a small cave where you'll find the Lord's Mail.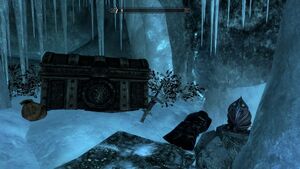 Quest Stages
Quest Name (Quest ID)
Stage
Journal Entry
The Penitus Oculatus are after a renegade legionnaire by the name Praefect Torbal. He has in his possession a rare artifact, the Lord's Mail. I should follow the lead and locate Steepfall Burrow on the northern coast of Skyrim, to see if I can recover the armor.

Objective :

Penitus Oculatus agents are already inside. I should find Praefect Torbal.

Objective :

Torbal is dead by the Penitus Oculatus' hands. I should investigate to see if I can find any clues to the armor's whereabout.

Objective :

The armor is still here, in this cave, but there is another part that can be accessed from the cliffside.

Objective :

I found Kynareth's artifact, the legendary Lord's Mail. It feels light yet sturdy, despite its weathered appearance.

Objective :