If you have the The Mad Masker mod and the Legacy patch for it loaded, this room will be added to the Hall of Oddities.
Only the leveled list version of the mod works with Legacy. You will not be able to display most of the items if you use the non-leveled list version.
All unenchanted versions of the items can be bought from The Mad Masker in Pelagius's Mind.
To get to Pelagius's Mind, you need to complete the quest 'The Mind of Madness' given to you by Dervenin in Solitude. The quest will require you to go to Pelagius' Wing in the Blue Palace. After quest completion, you will be able to return to Pelagius's Mind by equipping the Wabbajack and using Pelagius' Hip Bone when in the Blue Palace or Pelagius Wing. To get back to the door of the Blue Palace, use the bedroll inside Pelagius's Mind.
Below is a list of all displays in the room, starting from the left.
Left side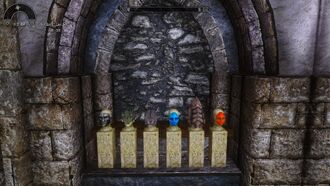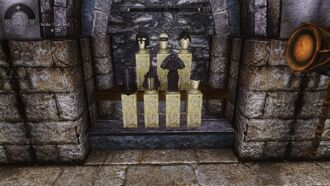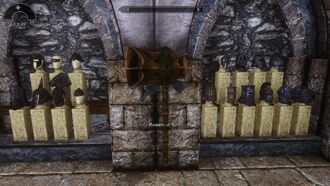 Mannequin Display
Right side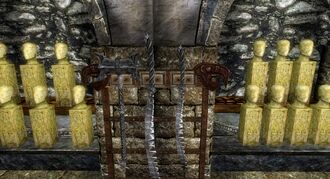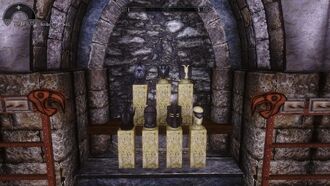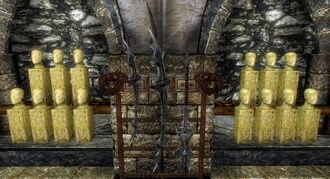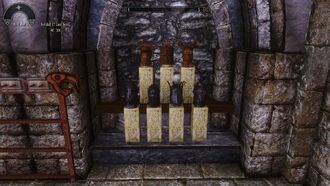 Ad blocker interference detected!
Wikia is a free-to-use site that makes money from advertising. We have a modified experience for viewers using ad blockers

Wikia is not accessible if you've made further modifications. Remove the custom ad blocker rule(s) and the page will load as expected.